---
Heraldrydiculous
by Khevron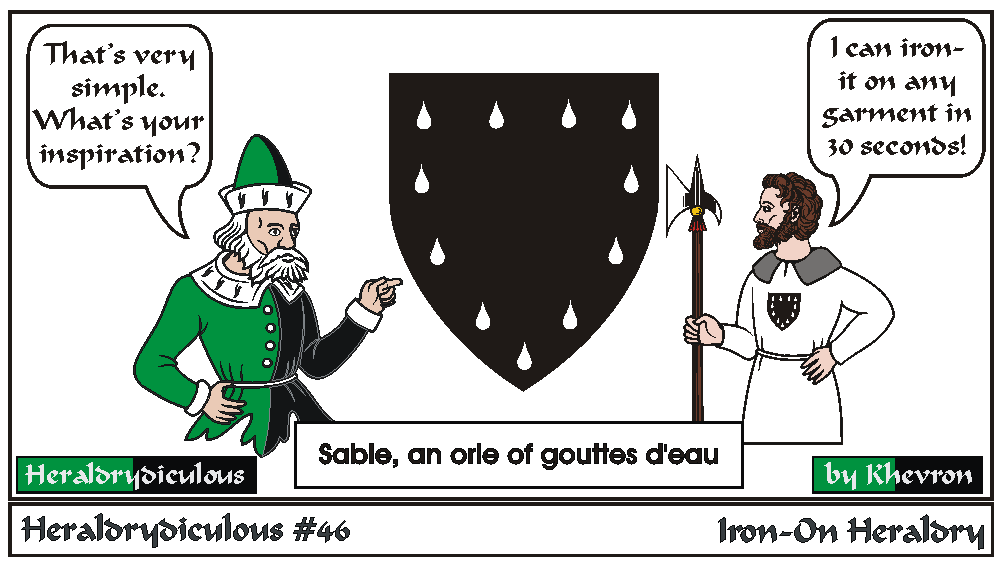 ---
Previous
Next
Heraldrydiculous Home
If you choose a complicated, difficult to draw device, chances are you won't be painting it, embroidering it, applique'ing (sp) it or otherwise displaying it on many things. Maybe you think you just want one banner, but later you may be inspired to make heraldic garments, shield etc, or use elements in theme elsewhere. OR you may be in a position where others want to make things for you - i.e. becoming King/Queen, Prince/Princess, Baron/Baroness, Peer or any other honor, or special event. Then where will you be?
Generally speaking, more common charges, in their standard positions*, are more readily available in clip-art, stamps, coloring books, patterns, items at bead stores and leather shops, and therefore are easier to work with.
*Standard positions like: Hawk Close, Lion Rampant, Eagle Displayed, Griffin Segreant - rather than Hawk Volant, Lion Dormant, Eagle Striking, Griffin Displayed, etc.

Get your own Heraldrydiculous Iron-On Heraldry T-shirt!

In Service of the Dream & Heraldic Display!
-Mastyer Khevron
e-mail:

Back to Khevron's Heraldry Page

<!1-07-07)