---
Heraldrydiculous
by Khevron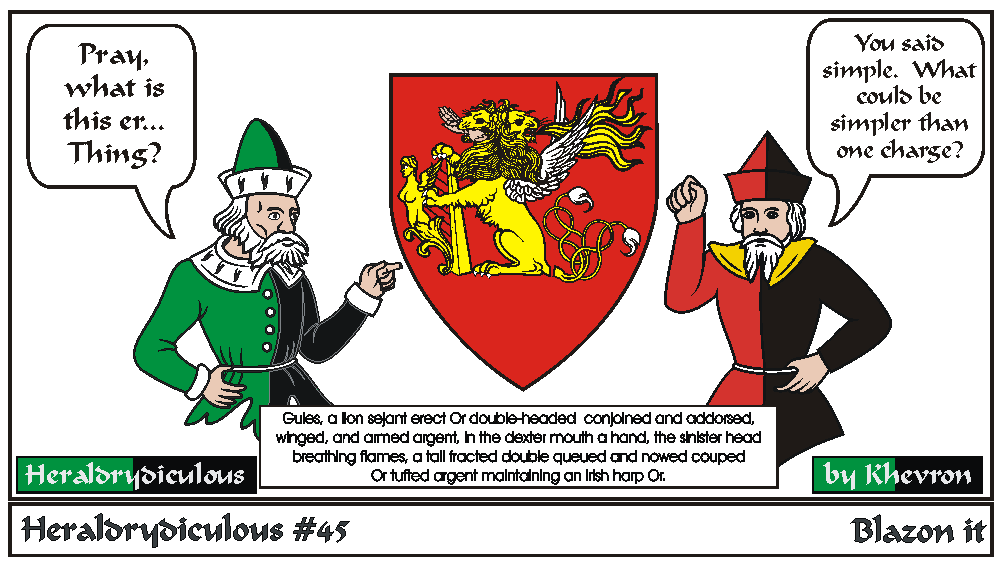 ---
Previous
Next
Heraldrydiculous Home
Blazon repeated here for clarity: Gules, a lion sejant erect Or double-headed conjoined and addorsed, winged, and armed argent, in the dexter mouth a hand proper, the sinister head breathing flames, a tail fracted double queued and nowed couped Or tufted argent maintaining an irish harp Or.

One of the tell-tale signs of bad heraldry is the inability to blazon it easily. I probably left something out here, but it's almost too ridiculous to fix. Sure, one charge on a plain field is good, simple heraldry. But if that charge has so many attributes and attitudes that no-one should be expected to draw it... it's bad style, even if no one of the attributes are illegal.
Other signs of bad armory: Too many commas. Having to repeat tinctures over and over.
In Service of the Dream & Heraldic Display!
-Mastyer Khevron
e-mail:

Back to Khevron's Heraldry Page

<!1-07-07)