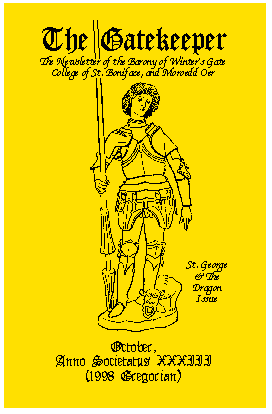 Event Copy included for:


Michaelmas,
and
Feast of Long Nights (Moroedd Oer),

and Boon Day Feast (Eskalya)


If you don't receive the paper copy of the Gatekeeper, you missed Da'ud Bob ibn Briggs'
review of the made for TV movie "Christopher Columbus".


An article also was included in the October GK:
"A Fabric Saving Way to Cut a Tunic"
by Varakreivitär Kareina


Kotzebue Middle School Demo Report
Due to the success of last Fall's demo, we were invited back for a multi-part demo for the 8th grade medieval history section.
Part the first occurred on September 14 and 15th, where Conal, Khevron and Hafoc stood up in front of the classes and told about medieval times, the SCA, their own persona's, and the crusades. Conal did most of the speaking, and pieces of armor, periodicals and pictures were passed around for hands-on inspection by the wide-eyed youngsters.
Part the second was a full demo on October 2 in the Gym for both the 6th and 8th graders (about 150), where the dancing and fighting demo's took place. Conal, Kareina and Khevron taught 2 dances, fought each other, and allowed the students to come up and "beat their teachers"! (Conal is staff and Kareina is a substitute at the school) Our thanks to Lady Capella for transporting Armor and garb.
A donated caribou roast cooked in medieval style (inside bread) and tarts were presented by the 8th grade home economics teacher to illustrate noble's fare, and the students tried oatmeal and peas porridge to understand what the peasants lived on. The Arctic Sounder newspaper held interviews, as well as the school's video yearbook representative.
Word is the Home Economics teacher may enlist her class to help us cook for our Feast of Long Nights event in November!

-Khevron