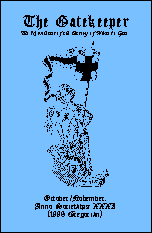 From The Baroness
Greetings!
Winter is just around the corner, and we are preparing for the long white months by celebrating the Feast of St. Michael. The menu, a sampling of tasty and traditional dishes from the Scandinavian countries, has been set. At $12, it's the best deal you can find: a feast fit for royalty. And speaking of royalty, it is rumored that Alicianne, Princess of Oertha, of planning to visit her homeland and join us for this annual feast, along with other friends from our neighbors to the south.
The menu is ambitious: and it requires lots of help. There are cooking workshops planned for this weekend to cook those dishes that can be prepared ahead. If you can cook, or chop and mix, or just want to learn, come either or both days for whatever time you can spare. Or contact me or Taran about preparing a dish at your own kitchen to bring feast day. Or plan to come early and help with what needs to be prepared on feast day. And please RSVP Taran as soon as possible, so we know how many people are planning to attend. I urge you all to share in the fun of eating some of the best food in the Knowne World!


--Morgana

Meeting Notes 9/26/96


The "group cooking" days for Michaelmas is to take place on Saturday and Sunday, October 5th and 6th, from Noon to 5ish. This will take place at Taran's home, 1349 Sloan Street, North Pole. Anyone needing a ride, please feel free to call Khevron or Kareina at 490-0013. See the Michaelmas Event Announcement for some details. Cooks are needed! Get your reservations for Michaelmas in, so food can be purchased and portions gauged.
There are many dates for events coming in the Spring. Although the only event scheduled at this time is Spring Captaincy in May, we'd like to see another event or three occur in the Winter months. An idea for a Collegium has been suggested for the end of February, start of March. No autocrat has been established yet, but Morgana and Kareina already are volunteering to teach. Keep in mind Spring Break for UAF is from March 15-23.
Coronet is scheduled for Winter's Gate this summer, and usually occurs the 3rd week in July. Planning needs to take place soon, to get a viable bid in. A suggestion was to have a partial feast, providing a meat dish or two, with the attending populace bringing their own side dishes and desserts. This would cut work down for the smaller summer Winter's Gate population to have to handle. Also suggested was possible asking for someone from another Barony to handle the Feast, with the local autocrat's providing support.
Dance practice is now in the Wood's Center, in the Multi-level Lounge. Turn-out has increased to 15 to 20 people! The additional people allow more and different dances. We meet every Wednesday evening at 7pm and often run til 10pm or so.


- Articles -

Harvest Captaincy Report
Harvest Captaincy was a terrific success. 33 were in attendance, and people came from afar to grace us with their presence. Countess Berengaria de Montfort of Carcasonne traveled from Cynagua, Lord Bjarni Edwardsson av Jorvik, Mistress Valija Ansdötter de Montfort and Master Karl von Montfort traveled from Eskalya. The newly re-named "Thorbjorn Thorstagsson" became the new Captain of the militia, at the inspiration of the new heart, "Deborah", who was attending her first Winter's Gate event after moving here from the Kingdom of the East.


The Headless Tourney went very well, other than the demise of several weapons. Of the field of Lunchmeats (Thanks, Countess Berengaria, a/k/a Bologna de Montfort, for the idea) Cappicola Ham(Khevron), Bread (Kareina), Mr. Sausage (Thorbjorn), Kielbasa de Montfort (Karl) and Head Cheese (Grimr). Kielbasa de Montfort won the day and the prize of a Sustaining Membership, donated by Heather, which he bequeathed to the Barony, to add to it's numbers. The "bye" fight entertainment of demonstrations, including "heraldic positions" that seemed to go over well.
The "101 things to do with a cloak" competition went to the Demonstration abilities of Bjarni Edwardsson, who covered himself and his lady, Viscountess Annora, while he "Cleaned her, after the "Paper" food fight. The Prize was, appropriately, a book on Vikings. A second prize of "Etiquette for the Renaissance Gentleman" went to Lord Grimr. Tasha O'Wray and Maggie Jane Byrnes shared the Potluck prizes (a Treasure Box and a Medieval Cooking book) for their delightful flavoured drinks, as judged by the populace. After acknowledging the new Captain and Heart, the Baroness bestowed the Baronesses Recognition upon Mistress Annora and Myself (Khevron) during court.
Varakreivitär Kareina received a Silver Swan for her contribution to the arts in the barony (cooking , sewing, and especially dancing).
I would like to express several "thank you's" as Autocrat: Malachi for a terrific job as constable for the event; my fellow fighters: Karl, Grimr, Kareina, and Thorbjorn, for attending, participating, and showing great skill and honor on the field; Berengaria de Montfort, Deborah and Amber Kenna for heralding at short notice; all the new people to the SCA whom I hope had fun and will return to the next event; everyone who brought their wonderful potluck contributions, and everyone who helped clean up the site and did a fine job doing it too!
--Khevron (Autocrat)


From the Office of Arts & Sciences




Ginger Cookies
People with a sweet tooth who crave cookies are somewhat limited when it comes to making period versions. The problem comes in with the baking powder/baking soda. These chemical leavenings were not used in period. The most common variety of cookies appropriate for SCA use is, of course, the standard shortbread. But for those of us who want a more flavorful cookie I would recommend the following Ginger Cookie recipe. I use lots more spices and candied ginger than the recipe calls for, and find that this works well. These cookies are very durable, so they travel well to events which are far away. --Kareina


1 c. butter
3/4 cup brown sugar
1/2 c. (or more...) minced candied ginger
2 t. vanilla
1 t. (or more...) Chinese five spice powder
2 c. flour


Cream butter with brown sugar. Mix in minced candied ginger, vanilla, Chinese five-spice powder (adding some fresh grated ginger is also an option). Add flour. Roll dough in one-inch balls. Dip half of each ball into water and then into a bowl of white sugar mixed with some 5-spice powder. Place on un-greased cookie sheet, sugar-side up. Bake in 375 degree oven 10-12 minutes till golden brown. Cool on wire rack.


Titles and their alternates.


You will encounter many SCA persona's and names, and many have titles that may leave you confused. Many Kings are listed as [name], Rex, which is Latin for "King" or [Name], "Principesa", Spanish for "Princess". I picked the following data off the Web site > http:www/sca.org/heraldry/titles.html . There are many more language bases than these, but I'll start with these, and print a few at a time here in the future.

-Khevron


Winter's Gate Awards
By Morgana yr Oerfa, Baroness Winter's Gate


OP, GA, OLM, ORL, AA, OSO, CDW, OE
Have you ever wondered what all those initials mean following someone's name, like above? Commonly called Alphabet Soup, they indicate which awards someone has received. Awards can be given by Kings and Queens, Princes and Princesses, and landed Barons and Baronesses (which is what I am). One usually starts out being recognized at their local level, and gradually work up (from barony to principality to kingdom).
The Barony of Winter's Gate has a handful of awards that are given by me (in my capacity as Baroness) when appropriate at baronial courts, usually at May and Harvest Captaincy events (although they can be given at any official event). The most prestigious is the Order of the Estoille, given for long-term service to the Barony. People receiving this award have usually been members of the barony for several years, have held one or more offices, are often instrumental in keeping the baronial activities on track, and are examples for all to follow. For excellence in the arts and sciences, there is the Order of the Silver Swan, given not only to those who produce arts and sciences that cloth us, feed us, armor us, and entertain us, but also to the historians who research, teach and publish.
The Order of the Stout Heart is given to those hardy souls who, although not members of the Barony, have traveled frequently to our isolated lands, have aided, encouraged (and sometimes incited) us in war and peace, and have generally been our friends, especially back in ancient times when it was not politically wise to be such a friend.
The Companions of the Bear Claw are those who have displayed ferocity on the field of combat or war. Another fighting award is the Gilded Lily, given for exceptional deaths on the field. The Lily and Bear Claw were designed to be awarded as often as deserved, and recipients are entitled to display a gold lily or a bear paw somewhere on his or her armor (on the helm was the practice in early baronial history). Neither has been given for some time, but I would certainly like to see these qualities displayed on the field so they could be acknowledged.
Created to be given when deemed appropriate, and as often as earned, is the Baroness' Recognition, which I started to thank people for work done in the last six months or so, that I might have had had to do if they hadn't been there. How do people receive them, you ask? First, I keep an eye on the members of the Barony, watching who does what. I also confer with previous recipients of the awards to get their opinions on my suggestions and to find out what they might have observed that I missed. And anyone can recommend someone for any of those awards. You can either speak with me at events or meetings, call me, or put your recommendations in writing. I am always glad to talk to people about the awards, and to have people recommended. It's one of the more pleasurable aspects of being Baroness: being able to recognize the activities of people!


Michaelmas Feast
Saturday, October 12, A.S. XXXI (1996)
Hess Village Rec. Center, Barony of Winter's Gate


While the Barony of Winter's Gate prepares for the arrival of winter, cooks are busy planning the annual Michaelmas Feast. This year the menu will feature foods from the Scandinavian cultures.
The site of the event is the Hess Village Recreation Center on the campus of UAF, 758 Kuskokwim. From on campus, go up N. Tanana Dr., take the 3rd left. Park in the 1st parking lot (visitors). Go past the dumpster to the building with the rainbow. The site officially opens at 3 p.m. However, the cooks will be there earlier, if you would like to come and give a hand. The feast should begin at about 6 p.m. Come in garb, bring your feast gear, personal beverages and appetites.
Feast fee is $12.00 per adult (family rates are negotiable). Please RSVP as soon as possible so the cooks know how many to plan for. Contact either the autocrat, Taran de Montfort (Bryan Hailey) at 488-xxxx, e-mail jedi@[removed].net, or Khevron de Montfort (Don Goertz) at 490-xxxx.
More cooks are needed, especially for dishes which can be prepared ahead and brought. If you would like to be one of the cooks, contact either Taran or Khevron for more information.
Please bring any period games, songs, or other amusements that you would like to share.


The Feast will include most or all of the following, depending upon number of reservations and volunteer cooks so reserve your place early to ensure a full menu.
Smorgasbord: Norwegian Dumplings & Ginger Sausages, Fried Mushrooms in Sour Cream, Stuffed Eggs w/Caviar, Pickled Herring Platter, Coffee Cake w/Walnuts and Honey, Meatballs in Onion Sauce, Finnish Farmer Bread, Baked Kippered Herring, Blini w/Fruit Jams, Sour Cream & Smoked Salmon, Flat Finnish Sour Rye Bread, Oat Cakes.
Main Course: Yellow Pea Soup, Rye Beer Bread, Pot-Roasted Pork w/Prunes, Danish Crisp Onions, Norwegian Meatballs w/Gjetost Sauce, Danish Wheat Rye Bread w/Wheat Kernels, Swedish Style Pot-Roast, Red Cabbage, Lamb w/Dill, Cauliflower w/Eggs Sauce, Smoked Bacon w/Onions & Apple Rings, Barley Pudding, Oven Poached White Fish w/Mustard Dill Sauce or Venison Pie.
Desserts: Pastry Cones filled w/Whipped Cream & Berries, Baked Apple Dumplings, Raspberry Pudding w/Cream.


As you can see, the food is plentiful and variety is the word of the day. Part of cooking will be done at Taran's house, Sat/Sun 9/5-6 and all are welcome to participate.


Yule Event
Saturday, December 14, XXXI (1996)
Hess Village rec. Center, Barony of Winter's Gate


"Bring me flesh, and bring me wine,
Bring me pine logs hither;
Thou and I will see him dine
When we bear them thither."
Page and monarch forth they went,
Forth they went together;
Through the rude wind's wild lament,
And the bitter weather.


No matter what the weather, all are welcome to attend the Yule feast of the Barony of Winter's Gate! The feast will be pot luck, so be prepared to outdo yourself in culinary achievement! Strive for a dish that is appealing enough to spare you the necessity of taking home leftovers. The site fee is $5, plus an anecdote, story or song to entertain your fellow guests, (the latter is optional for those 12 and under.) Autocrats: Patrick & April Woolery; 452-5643


- News -
The UAF Campus Club: Students for Creative Anachronism has added many member to it's roles! A Treasurer has been found for the Campus Club: Dustin Grimes. Thank you for volunteering Dustin!


The "Students for Creative Anachronism" Campus Club needs a replacement next term for it's retiring President, Varakreivitär Kareina. Essentially, the President makes sure club paperwork is in to the University each term, reserves sites and rooms for meetings, and maintains the e-mail account.


Anyone interested in a Leather working class, contact Taran (488-xxxx). The owner of Dark Horse Leather Works (Who is NOT moving after all), can supervise and advise a few hours of work on our own projects- helping wherever he can, or run a class with a single project in mind. There is a fee, and it varies with the projects/setup, and the more organized class is limited to 4 students.


Any fighters interested in purchasing Rattan, please let me (Khevron) know immediately. I'm putting in an order very soon, to start replacing worn out and broken weapons.


A late entry for the 101 things to do with a cloak was submitted by April, as the last Ivory Thimble Tea.