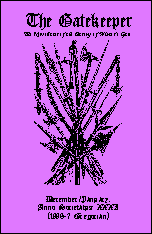 Thirti dayes hath Novembir April, June and Septembir Of eight and twenti is but oon, And all the remenaunt thirti and oon. From "English Lyrics Before 1500"

From the Chronicler

Please contact me to enter your Ads, News, Articles, Artwork or Cover designs in a future Gatekeeper! Being the Dec./Jan. Issue, there may not be another Gatekeeper until after Winter Coronet, and will be published at the beginning of February. I stuffed as much info as I could into this issue, so please keep this on hand for reference until then. Watch the snail-mail and e-mail for any updates and new info! - Khevron

Meeting Notes 11/21/96

The Seneschale Officership of Winter's Gate is passing to Heather Dorsett. Annora is regretably (for us) moving to Eskalya within the next month of so. She will visit frequently, but she will be missed nonetheless. The Constable has collected a small lost and found. Please check with him to reclaim lost objects. Winter's Gate Collegium is beginning to organize. Knowns: It will be on the UAF campus. The Date(s) are the weekend of March 29-30. It will be a pot luck event, and will be hopefully followed by a public Costume Ball with an historical theme! Anyone who'd like to teach a class, please contact Random (Dustin Grimes) or Kareina. Classes so far: Period Cooking sources and Blackwork. Dustin's email: [info removed] The Rotary Club of Fairbanks requests a demo on January 27th 1997. This is a Monday, and will occur at the Rotary Club's luncheon at the Princess Hotel. Please contact Annora or Heather about participating. Demo's are the SCA's avenue of Public Service, being an educational group. There is calendar space between Coronet and Collegium, and Collegium and Captaincy. If anyone would like to run an event, contact the Seneschale.

- IN MEMORIUM -

The Barony of Winter's Gate is saddened by the recent loss of one of our early members. John Wirta, known in the Society for Creative Anachronism as Lord John St. Andrew (Vair, a griffin segreant gules, a chief argent) passed away November 4, AS XXXI (c.e. 1996) after a long illness.


Lord John St. Andrew, founder and head of Zacchary Keep Abbey in Winter's Gate discovered the SCA in Fairbanks, only a few years after the shire was founded. He embraced medieval life with a passion that he enthusiastically shared with others. Active mundanely in the theatre arts, Lord John sang and encouraged the bardic arts in the SCA. He was generous with time, money and prizes (when he was able) to encourage the growth of Winter's Gate.

As a fighter, Lord John will be remembered for his large, aggressive presence on the field and his love of fighting. He was Captain of Winter's Gate several times and arranged for shop space for fledgling armorers and fighters to make armor.

John St. Andrew had a great fondness for cooking and brewing (and eating) and was the originator of our traditional Michaelmas feast held every October. His constant companion for many years, a Doberman dog named Cheyenne, provided the truly medieval touch at feasts. He was the illuminated manuscript image of the hound in the rushes, waiting for the tossed bone. Cheyenne happily cleaned up after many a food fight.

Lord John had a fondness for all things Scottish and was able to fulfill a lifelong dream of visiting Great Britain Gryphon Segreant in the mid '80's; memories he cherished.

Troubled by ill health and circumstances these last few years, Lord John withdrew from SCA life and his friends didn't see him very often. We are saddened by his death and remember the good times we had with him. When next you raise a glass with friends, please toast the memory of John St. Andrew of Zacchary Keep Abbey.


Annora de Montfort of Shadowood

- News, etc. -

ASUAF has approved for the SCA Campus Club the funds to rent a 15 passenger van for a trip to Winter Coronet on the weekend of January 18. The current plan is to drive down on Friday, January 17, and return late Sunday eve 1/19 or Monday 1/20. As of this publication, all positions in the van are taken, but contact Kareina to reserve a seat for cancellations. If you don't get a seat, you'll have to acquire a private car-pool (Coordinate with Kareina). The first day of Classes at UAF is Thursday 1/16, and there are no classes Monday 1/20 (Martin Luther King Day). Hopefully there will be few, if any, conflicts. Crash space in Eskalya is also available with enough notice.
If anyone is missing a large skillet that was in use at Michaelmas, please check with Morgana to claim it. [Info removed] If anyone would like to sponsor (make, finance, gift) prizes for any of the Yule activities and contests, please contact the autocrat. See event copy.


From the Baronial Knight Marshal




Since my own participation has been sporadic at best, due to mundane scheduling and personal choices as to time commitments, I'd like to pass on the Office of Knight Marshal of Winter's Gate. The candidate need not be a fighter, though it is helpful. The Office isn't a heavy burden, but regular appearances at Fighter Practices for training and safety concerns will be required. Anyone interested, please call me for information.
-Khevron [info removed] anytime.


Michaelmas Report

Thanks go to the weekend cooks (Amber, Crystal, Bianca, Malachi, Grimr, Senan, Tasha, Maggie Jane, Caitlin and Thorbjorn) and to the cooks-at-home (April, Patrick, Kareina, Annora, Bjarni, Amber and Crystal). It couldn't have been done without you. It also couldn't have been done without the help on Michaelmas day. Those I can remember who cooked and washed dishes include Laurel, Tesha, Logan, Random, Leif, Justin and Phelan). Special clean-up thanks go to visitors Targan, Brigit, Karl and Valija, who threw everyone out to finish cleaning, except for April and Patrick, who stayed to the end to close the site down. I know there's people I missed, but I was very sick and can't remember everyone. A very special thanks goes to Annora who, as always, was a very helpful other half in the cooking coordination and recipe selection process. As exchequer, the report is that we spent $455.71 on food, and brought in $529 for feast fees, for a total profit of $73.29.
--Morgana (Feastocrat, Exchequer)


There is not much I can add to the Baroness's report. I was very pleased to see such participation at my first event as autocrat. I hope everyone enjoyed it as much as I did. Just about everyone pitched in to cleanup after the event. It made the job tremendously easier and faster. I look forward to autocrating more events in the future.
--Taran (Autocrat)


Book Reviews




A HISTORY OF ENGLISH, IN IT'S OWN WORDS
by Craig M. Carver
(HarperCollins, 1991)
You don't have to be an Etymologist to enjoy this romp through our very interesting language. Mr. Carver begins with Old English, selecting words and giving their origins, and connecting words from their oldest beginnings from the Greek of Latin, and the influences of German, French, Italian and other languages. He continues through the language of Chaucer, the Renaissance, and on up into the 20th century. Even the later entries have references to the distant past and are worth reading. I will drop some brief examples here, but he generally writes about a half page for each word.
Lord: (c. 725) Simply put "Bread giver", from hlaford (f sounding as v), "hlaf"=(loaf) + "weard"=(ward, keeper) which is the head of a household who was the "bread keeper" the second part was deleted by the 16th century, though the meaning as sovereign or noble was established since the 1100's.
Lady: (c.750) From "hlaefdige", which literally meant "Bread kneader"
Scot-free: (1066) Nothing to do with Scotland, but from the Scandinavian "scot" which means "contribution", and in Anglo-Saxon England, someone who was "scotfre" was exempt from the Royal Tax.
Marshal: (1258) In 1215, the literal and original meaning of marshal was "Horse-servant", as in the French "marechal veterinaire", who treated horse diseases. It graduated to Master of the Horse, and in the military world of the period, this was no small import.
Constable: (c. 1200) from the Old French "Conestable, which is in turn from the Late Latin "Comes Stabuli" or "Count or Officer of the Stable".
Round Robin: (1546) Once a nickname for the communion wafer, the word re-appeared in the 1800's referred to mutinous sailors who signed their petition document in a circle alphabetically, leaving no head of the list or leader, and the Captain could hardly hang his whole crew. The Tournament meaning didn't arise until 1890 America.
Serendipity: (1754) A favored word of our Baroness... Was intentionally coined to the current meaning by a politician Horace Walpole, from the title of the Persian Fairy Tale "The Three Princes of Serendip". Serendip is an old name of Arabic origin for Sri Lanka, which was called Ceylon at the time.
Note on "Corn": It's not included in this book, but if you read period or historical novels and encounter corn, it's not a maize-take, it's merely the British word generally meaning grain. (Sorry, the pun was a bit corny - K ;-)~


BELOVED ENEMY: The Passions of Eleanor of Aquitaine
by Ellen Jones (1995)

As a self-professed Eleanor of Aquitaine junkie, I like to read every work, fact and fiction, that deals with any aspect of Eleanor's life. This new(ish) book is not a bad attempt at profiling Eleanor's early life, although it deals equally with Henry II and Thomas Becket. As is the case with most writers of historical fiction, Ms. Jones has taken a few liberties with dates in order to facilitate the smooth flow of her own story. She has also enlarged the roles of a couple of characters mentioned in passing in historical annals to play pivotal roles in her story.
Like _The Fatal Crown_, her previous work on King Stephen of England and Empress Matilda (Maud), the story is a trifle tepid. The actual historical occurrences are quite interesting, but Ms. Jones gets bogged down in a welter of detail about the horrors of life in the Southwark stews of London. She doesn't just make a point, she hammers it home.
One touch in plotting that I did appreciate was that she did make occasional allusions to the story she had woven in _The Fatal Crown_, but it was never vital to have read the preceding volume in order to eventually understand the action in this one--just nice. It's one of those situations where the author allows the reader to feel brilliant by describing action amongst the characters that the primary players do not understand from visual reference: but you, the reader, do. The principal case in point occurs when Ms. Jones creates the character of Young Henry, Henry II and Eleanor's eldest surviving son, to look exactly like Stephen of Blois, his paternal grandfather--although this fact is supposedly the secret of his grandmother, the empress, whose reaction to her first meeting with Young Henry alerts everyone that there is something disturbing and unusual about the boy.
Ms. Jones uses a character created from two references in household records of Henry II's reign: a woman called Ykenai (a Saxon name) who bore him his best-known bastard son, Geoffrey (later Archbishop of York); and a woman later alluded to as Bellebelle. The amount of contrivance to make Bellebelle a central part of the story is the part that grows a bit tedious.
The other major character is Thomas "Will no one rid me of this tiresome priest?" Becket, who did in fact rival with Eleanor for Henry's time and attention. Ms. Jones' theory about repressed homosexual longing on the part of Becket is fascinating, and although totally unsubstantiated in history, it is tastefully dealt with.
Ms. Jones did a great job in characterizing Henry and offering motives that drove him; her work with Eleanor is much less successful and a little too PC. There is no record of Eleanor being a "pupil" at Fontevrault as a young girl, and young noblewomen were not sent away to school in this era anyway; one reason this particular device to explain Eleanor's lifelong attachment to Fontevrault Abbey is so silly is a large hole that Ms. Jones seems to conveniently ignore here, although it plays a large part in Eleanor's story, factual and fiction, later on: she would have been a great target for kidnapping by an ambitious lord.
There are various other anachronisms such as references to Eleanor's "shimmering white gown" and "snowy veil" on her wedding day to Louis. Most of these occur pretty early in the book, and Jones seems to find her stride once more as the plot develops. Her vision of the intimate portion of Henry and Eleanor's relationship, in particular, has a decided ring of believability about it to anyone familiar with the outline of their reign.
I wouldn't recommend buying this book, but if you are interested in the Plantagenets, do check it out of your local library.
-Countess Berengaria


Yule Event

Saturday, December 14, XXXI (1996)
Hess Village rec. Center, Barony of Winter's Gate
Potlucks, prizes, pageantry! That's right, it's Yule time! Dress up and attend the fest! Same site as Michaelmas, 3:00 pm Saturday, December 14. Bring food, your favorite drink, (non-alkie - the site is borrowed from UAF family housing and is dry,) and $5, (the absolutely minuscule site fee.) Suggested assignment of dishes - Potluck feast items to be brought by modern last name: A-I= Main Dishes J-R= Side Dishes/ S-Z= Desserts Deli Snacks Make dishes appropriate to your persona 's time and place, if possible. If you don't have a persona yet, just pick something tasty and try to keep it in period. Since we need to know how many tables and chairs to borrow, please RSVP ASAP via [info removed]. DOOR PRIZE! Limited chances to win, first come, first serve, so early birds will have their day. Good luck! Contests: People's Choice Award for the best potluck dish Balancing Competition Norse Riddles Bardic Circle - It's not what you think! You have choices as to what to do: stories, drama, poetry, jokes, songs, dances and recitation are all possibilities. There will be no categories, but the top three participants will be chosen by popular acclaim. I would especially love for the more experienced SCA-ers to tell tales of the Society. Inquiring newbies want to know! Those not participating will be awarded the "Bell of the Jaded Jester" 1. because by not trying, they cannot possibly win any other prize 2. to gently remind them that they should try next time. There should be no spectators at SCA events. We are looking for prize sponsors for all competitions except the best dish award... Other Events: Introduce yourself in character (if you have one) Period games Cloak and Dagger demo by Patrick and Patrick Lord and Lady of Misrule And more!

Last requests: period games, dicing, cards, backgammon, etc. Also, cushions for comfort during the bardic circle. We'll be moving the tables and flooring it. Autocrats: Patrick & April Woolery; [info removed]

The Chirurgeon

You probably have noticed or heard the word chirurgeon being used in SCA publications or at events. For those of you who don't know what a chirurgeon is exactly, I would like to clarify it. The dictionary defines chirurgeon (ki-rur-jun) as a surgeon. The word comes from Middle English, Old French, and Latin roots. The word is still used today in various forms around the world. Basically, the SCA chirurgeon is concerned with the health and safety of all the participants during SCA functions. If any one gets hurt it is the chirurgeon's job to provide first aid and recommend further medical treatment if necessary. He should also ensure that the site and activities are reasonably safe for those involved. Each chirurgeon reports to the next higher office (i.e., the Baronial Chirurgeon reports to the Principality Chirurgeon). The requirements to be a chirurgeon have increased to needing at least advanced first aid and CPR certification. If a person meets the criteria, they can be certified by the Kingdom Chirurgeon. Historically, the chirurgeon's skills were limited. Many of the practices used to treat the sick and injured were actually harmful to the patient. "Bleeding" a patient to remove the vile humors in their blood was a common practice. The physician would take a small knife, called a fleam, and cut a vein open. He would then let the blood drain into a bowl until he was satisfied. This often severely weakened the patient and allowed what ever was making them sick to overcome them. Interestingly the practice is still done today for rare blood conditions, although with sterile needles and equipment. Another ancient practice still used today is the use of leeches to remove blood from specific areas of the body. This is done after some microsurgery's such as reattaching a severed finger or eye surgery that produce heavy swelling. The leaches saliva prevents clots from forming in the areas and it sucks up extra blood from the sites, reducing pressure. Leach saliva contains the most effective anti-clotting factors known. It also doesn't produce any side effects like the man-made anti-clotting medicines we use today. If you are interested in being a chirurgeon, helping out, or just getting certified in first aid or CPR, just talk to me. -Lord Taran de Montfort

OERTHAN MID-WINTER CORONET

Dates; Saturday and Sunday, January 18-19, 1997
Where: Six Mile Lake Lodge, Elmendorf AFB (Anchorage, AK)
Site Times: 9 a.m. Saturday to 5 p.m. Sunday
Site Fee: BEFORE December 15: $15.00 Adults
$10.00 Smalls (2-10yrs)
AFTER December 15: $25.00 Adults
$15.00 Smalls
Babes in Arms are ALWAYS Free!


Newcomers and gentles with special circumstances, please contact the autocrat.


Please join the Principality of Oertha as we celebrate the reign of Gregor and Alicianne, and welcome their successors! The Coronet Tourney and Investiture will be held in the Barony of Eskalya. The site is Six Mile Lake Lodge, a spacious two-floored hall with great fireplaces and an enormous eric. In addition to the useual fighting and dancing, there are various entertainments planned for your pleasure, and a 3-remove feast. All meals are included in you site fee, and volunteers are gratefully accepted. Transportation and lodging can be arranged for those traveling, and any special needs/requests will be accommodated whenever possible.


Please complete the following reservation form and return to Mistress Flanna Dunwalton - you can include the entire family on a single form!