Canton Ynys Taltraeth History
Kotzebue, AK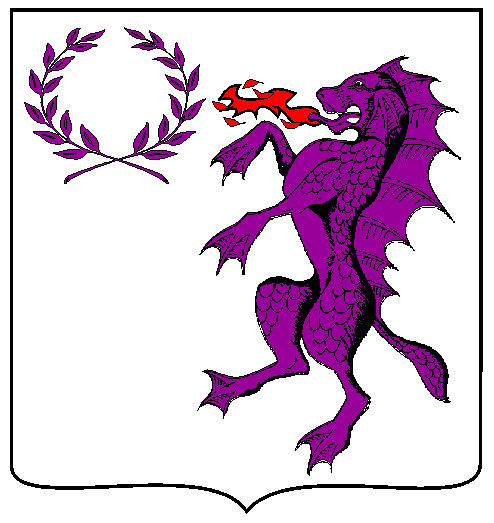 Argent, a sea-dog rampant purpure breathing flames gules, a laurel wreath in canton purpure
Summarized History of the Canton:
In sort of a log format, tracking activities in the canton and of the members.


Latest News at bottom of this page:

1997-8
To date (since our start in September '97), our group has had numerous meetings, several costuming workshops, 2 (yearly) demos for the 8th Grade history section, a Renaissance Dance class and we had our first event Spring Matsch Kolben on April 4, XXXII, a small Revel on May 1, XXXIII another event on August 1 and "Summer's End Feast". We're holding a weekly arts night on Mondays. We are putting armour together for combat practice and to bring some flash to the demos. We recently started a regular dance practice on every friday, and the general furthering of studies of the Medieval arts - costuming, name research, heraldry, and period references to name a few.
As of August 20, XXXIV, membership is up to 13 paid sustaining and 1 family membership and many other participating non-members.
We even have 4 fighters in armor and 2 not (yet)!

The Canton is not an official "branch" of the SCA as yet, but we are petitioning for branch status. At Midwinter Coronet in Silviergard (Palmer) on January 17, 1998 we presented gifts and soil from our land to Queen Brynn and their Highnesses Nicholaus and Alyssia. We were honored by a visit by Prince Joseph for our third event, on November 14, 1998, Feast of Long Nights, at which we had 31 people!


We've mailed our petition and paperwork on July 11, 1998!!!
Our Heraldry and Name Passed in the West Kingdom on August 16! Progress!
Fighter Practices are occurring sporadically.


Three of our number were at Midwinter Coronet in the Shire of Grey Cliffs!
1999
Bad News: Our name did not pass Laurel Sovereign of Arms' scrutiny as of the January 3, 1999 meeting, so we need a new one. Back to the drawing board. SUGGESTIONS WELCOME (and even rewarded!)


Further events: In February, His Highness Georg attended our "Blue Moon Revel" autocratted by new member "DerbForgaill", which was a lovely pot-luck, and a tourney involving 5 fighters including his highness, who distinguished himself as the first Oerthan Prince to fight North of the Arctic Circle! (He beat us).

For Baron Taran's stepping up the Canton tithed a pair of cloaks sporting the Baronial Heraldry. It was a fine group effort and the cloaks were well received, even if none of us could be there for presentation.
More plans in the works.


Had Summer's End Feast on August 7, 1999 lots of fun at the beach! -Autocrat: Mairghread of Waydelich


3rd Feast of Long Nights II: Autocrat- Lord Khevron; Feastocrat- Lord Lawrence. 16 attending including kids. 11 members!
Baroness Morgana came up and met the populace! We're sending in our device and new name choices (11/21)

2000
End of January 2000, our first choice crashed and burned. On to our second of three submitted to the West CoA.


Sea Dog Academy went very well March 18. We were visited by some interested people, fielded 4 fighters, and started work on the Oerthan Embroidery with Masteri Kareina! The Pot Luck feast was scrumptious!


Feast of St. Olaf's on April 8 & 9, 2000
Mistress Annora paid us a visit for this event, which was a nice cozy pot-luck


May: Still awaiting word on our names. Submitting several personal heraldry and names from the area which have been developed.


Summer's End Feast in August was a cozy event held indoors at the Activity Center due to incessant rainfall.


October: Spoke to Welsh name expert about name. Still awaiting the go ahead. Thinking of other names.


Feast of Long Nights III on November 18th went very well. It was a VIKING Event! Lord Robert did a fine feast. We had both Their Highnesses in attendance, plus 2 other out of town guests! 22 attendees - not bad!


December 12, 2000:
Having heard from our consultant, we're submitting the name: "Ynys Taltraeth" (Welsh: Island at the end of the sandy spit) This describes our local terrain plus metaphorically our situation with the rest of Alaska SCA. Signing our petitions and they'll be off presently. Also collecting memberships. We're in the 9-14 range!
2001
Held an event Feast of the Wee Folk on March 17 at the Activity Center, attended by Her Highness Sorcha. Sorcha also held a mini-collegium at the manor or Lady Merone, her hostess for the weekend, on Sunday.


Our second event of the year, Peasant Revel on June 2 was a tremendous success, with 19 people signing in. The pot luck yielded many and sundry strange dishes, including Dirt, Peasant pieces, Roast Beast Heart and others.


July 4 we raised money at the Kotzebue Independence Day Fair selling Funnel Cakes (which ARE period btw) and other yummy stuff.


End of September - Got word our Name and Device have passed!
Ynys Taltraeth
Argent, a sea-dog rampant purpure breathing flames gules, a laurel wreath in canton purpure
Once we receive the official letter, we'll be applying for official status through the seneschalatte, and be on our way!


Feast of Long Nights IV November 17, 2001 - Baroness Morgana graced us with her presence! Due to the local Flu-plague going around, attendence was light at 12, but the food was a-mazing.

2002
Twelfth Night - January, XXXVI (2002) - King Uther made us official as the Northernmost branch of the SCA and West Kingdom at court.
Oerthan Coronet - January 19, 2002 - Tithes were given Their Highnesses and the announcement made that the Canton is official by Mastyer Khevron.
Winter's End Feast May 4, XXXVII (2002) - Prince Patrick graced us with his presence for a cozy pot luck feast with 7 of the local populace. Our event was autocratted by Samantha and held at Big Dipper Community Circle site for the first time.

July 21, XXXVII: Khevron becomes Baron of Winter's Gate with Morgana at Oerthan Summer Coronet, circleted by King Jade and Queen Megan.

Beach Raid August 10, XXXVII (2002) - Havoc set up a pavillion on the beach 2 miles south of town and had a nice pot-luck meal, and tried our hands at archery.
Feast of Long Nights V (Khevron) November 22-23, XXXVII (2002) - Cozy Pot-luck dinner at Khevron's Manor.

Baron Khevron & Baroness Morgana progressed to Beltane Coronation in Central West Kingdom (May, 2003) and personally reported to King Alden and Queen Constantina and presented gifts.

Khevron travelled to Yule in 'Central' Winter's Gate and Saturnalia in Eskalya.

2003
April 25 2003 we raised money at the June Nelson Elementary School "Spring Carnival" selling instant photos. - See Pictures!

Khevron travelled to Captaincy, Mid-Summer Coronet and Michaelmas in 'Central' Winter's Gate.

Autumn brough fairly regular movie nights, hosted by Khevron, Liadan and Havoc.

Khevron traveled to Ynys Fawr attending a Lochac Collegium there.

Feast of Long Nights VI (Khevron) on November 29, 2003 was held at the Big Dipper Community Circle facility and was a cozy and quiet meal with some board games, adjourning to Lord Havoc's for a movie afterwards. The event was nearly canceled due to weather - there were three successive blizzards the week prior, and with wind chill the day of the event, the temperature was a frigid -23F.

2004
In February, Khevron started an on-line project, the West Kingdom Roll of Arms, announcing it in May. He travelled to Collegium in Winter's Gate in April 3-4, and Captaincy May 29-30. Fires inundated much of Central Winter's Gate with smoke for much of the Summer.
Low canton activity in the summer due to work schedules (12hr 7days in August) Khevron and Merewyn visited Winter's Gate for Harvest Captaincy.
Demo for Middle School History class.
Feast of Long Nights VII (Khevron) November, 2004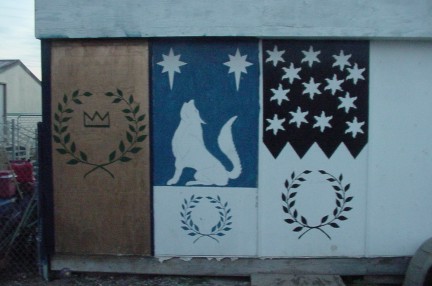 We painted Havoc's shed with the West, Oertha and Baronial Arms this summer.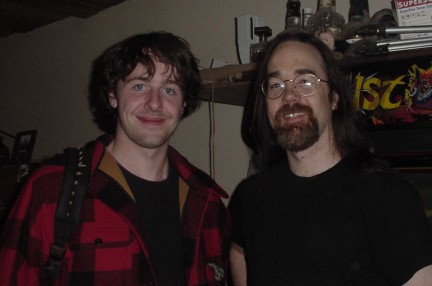 And in mid-September, the shed attracted the attention of a visitor from An Tir, Ivan the meek - pictured here with Khevron, from the Shire of Shittimwoode. He was quite surprised to find an SCA branch so remote in Alaska. We exchanged bunny and moose tales.
Visitors are MOST Welcome in Ynys Taltraeth!
In November, we held Feast of Long Nights VII (Khevron) on November 13.
2005
Khevron and Merewyn travelled to West Kingdom Twelfth Night and Oerthan Winter Coronet and 20year anniversary events. The attended Baronial Changeover April 23, where Khevron stepped down as 2nd Baron of Winter's Gate.
On May 10 we did a demo at the Middle-School 7th Grade Social Studies classes, and an unofficial event on May 14 called "Cut and Run Revel" - cut being the meat, run being the people disappearing for the summer.
Some regular activity still held back due to ridiculous work schedules.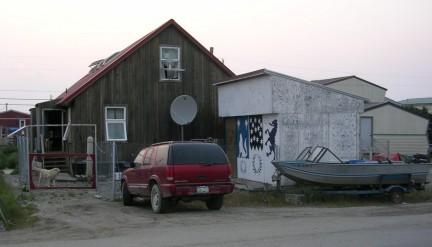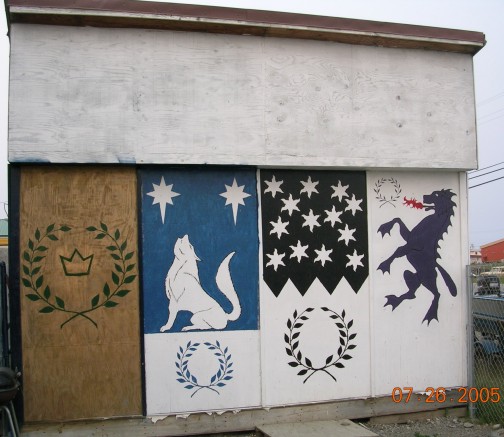 We finished painting the group arms' on Havoc's shed with the West, Oertha, Baronial and Canton Arms.


Khevron and Merewyn visited Winter's Gate for Michaelmas Feast. Feast of Long Nights VIII (Khevron) on November 26, 2005
2006
Khevron and Merewyn visited Winter's Gate for Spring Captaincy and their nuptial feast. Havoc attended as well as Best Man!
Khevron attended Michaelmas Feast in Winter's Gate in October.
Feast of Long Nights IX (Khevron) on November 4, 2006.




We brought Baroness Margery up from Central Barony to visit the baronial hinterlands for the weekend. 10 were in attendance and delicious food and drink were consumed with good company and conversation.
2007
Khevron attended Irish Revel in Winter's Gate March 17, and He and Merewyn visited the Pavlok Gorod branch in Kodiak and got on the local radio station promoting the SCA and their next event, and Khevron did some heraldry consultations. The "Herald roadshow" continued at "Day of Blood" March 24 event in Hrafnafjordr where Khevron heralded Principality court for Their Highnesses Cyrus and Caitriona". Merewyn returned to Ynys Taltraeth that Sunday and Khevron returned to Winter's Gate, stopping in the newly forming Canton Svellborg (Anderson, AK) finishing up the Herald Roadshow.
Khevron and Merewyn travelled to Coronet where Khevron freaked everyone with short hair and Greek tunic, and Merewyn received her Award of Arms.
Merewyn's arms passed in September.
We held or Annual Feast of Long Nights X with good turnout and wonderful food and company. Baron Griffin regaled us with stories.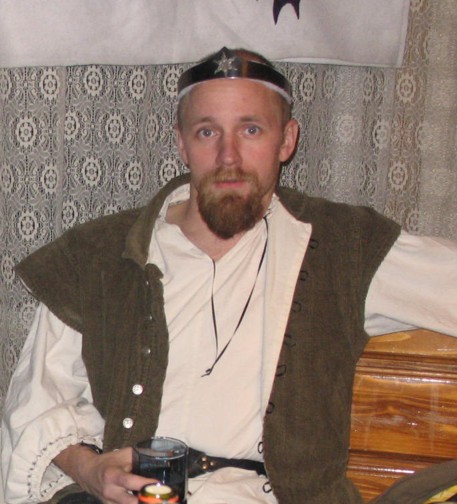 The theme was Honey and much Mead and Honey-liquer was tasted and heartily consumed.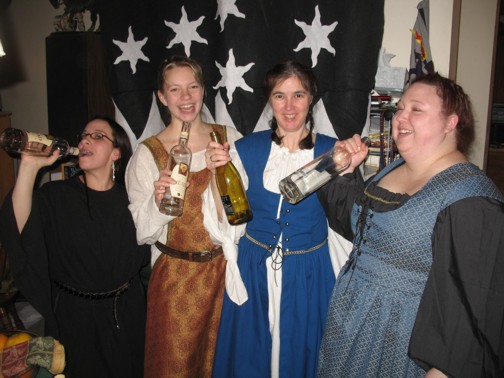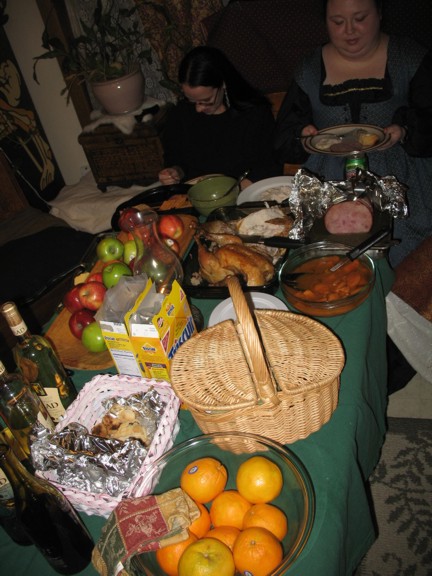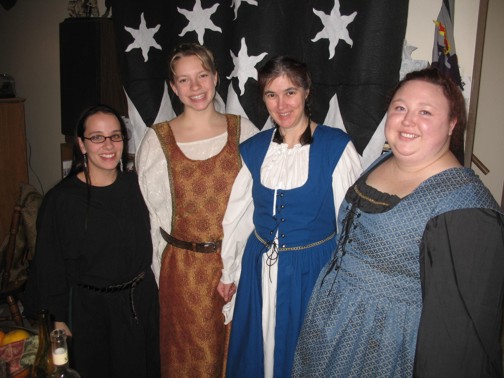 2008-2009
Shhh. The sea-dog is asleep!
2010
Our numbers are good, but not a lot of activity locally.
2011
July
Submitted our Charter to Principality/Kingdom/Bod.

September
Under minimums for membership, and little local activity, mostly due to schedule clashes. Planning on closing the Canton Branch. Could still do activities under the Barony.
2013
2014
Transferred the Canton Arms to the Barony of Winter's Gate, preparing to close the Canton.