Khevron's Buys (Stuff for Sale & Merchant links)
Now only available as pdf:

Oerthan Royal History and Heraldic Colouring Boke


See Colouring Boke Detail
Published in November 1999 by Khevron


A view of a more recent version:.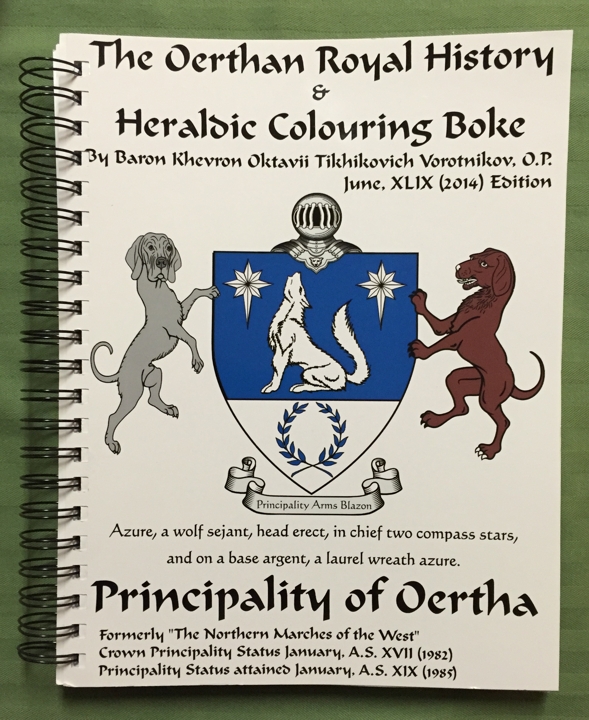 Or, visit my Cafepress Store.
. Lots of other SCA-related stuff in my Shop. Several customizable items as well!
---
---
Sold Out Items
Oertha 20yr T-shirts
In Celebration of Oertha's 20 year Anniversary at Coronet A.S. XXXIX (2005).


Click on shirt to see T-shirt Detail
These are Royal Blue, heavy-weight all cotton shirts.
Color shown here is much paler than the bright Royal Blue.
I have only 2 Large S/S, and have special-ordered 22 more for a short run all specifically ordered.
I'll post if there are any unclaimed.
Prices $12-15.00 Sm-3XL for Short Sleeves. +$2.00 for Long Sleeved. + Mailing cost if necessary.
Purgatorio 1992 in Oertha T-shirts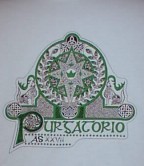 See T-shirt Detail
- We sent the remaining 70 T-shirts to Meridies after Hurricane Katrina -
These were are all paid for, just due to the Volcano erupting, attendance was limited, and there were too many shirts.
These are light weight White "Jerzees" 50/50 Cottom/Poly T-shirts - great for fighting in!

---
Branch Heraldry of the West Kingdom Heraldic Colouring Boke


See Colouring Boke Detail
Published in April, 2003 by Khevron
Out of print.
You can see the On-line color version at:
Branch Heraldry of the West
---
Savonarola Chairs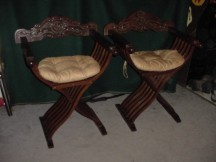 See Chair Detail
SOLD & Sent to a good home, but still worth a look...
---
Links to Oerthan Merchants:
The Hammered Wombat
Quality Medieval & Renaissance Armour Since 1989

Links to Other SCA Merchants:
Master William of An Tir - Metalsmith
Baldar's Blunts - SCA Combat Archery Tips - Trimaris

Costumes.org
Web-resource for all things

Treasure Cast
Pewter pendants, medallions and other Products

Twin Roses Designs
Costumes for many periods and fantasy

Costumes.org
Web-resource for all things

<!A HREF="http://oertha.westkingdom.org/Library/arts.html">Oertha web-site - List of Many more Merchants

Send me comments, questions or orders to: