This page hosted by
Get your own Free Home Page
---
Photos of Savonarola Chairs
These are 2 chairs that are over 50 years old made of Walnut. They were bought at an estate sale in Florence Italy, then later resided in a castle in Germany, and finally imported with 6 of their brothers to the states. This design is both expensive to find or have custom made.
The Chairs are named after a Monk, and can be found in Florentine museums and houses.
The back detaches with two screws, and the chair folds in excellent fashion for storage.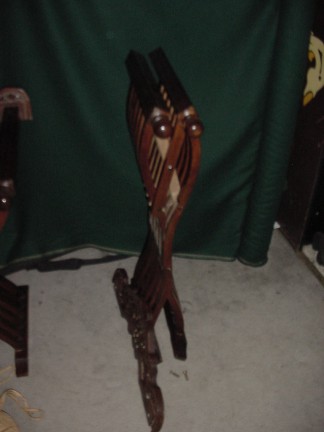 Folded view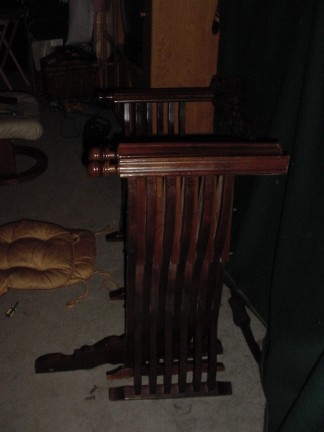 Side Folded View (Open one behind)
Other chairs of this type are the same design, but may differ in minor ways.
I've seen web-sites of furniture makers selling these for up to $600+ apiece.
They make very appropriate SCA thrones, or excellent chairs in a period-decorated room. Note they are not for extra-large people.
I started looking for these chairs after seeing them in a Design Toscano Catalog, where they are now on sale for $349.00 each. reduced from $498.00.
Design Toscano But last I heard they were sold out.
Other Links:
Cockerel Seating

Send me comments or questions to:



New e-mail since 8/02