Welcome to my Heraldry Service Page
Greetings from Khevron, "at Large" Herald!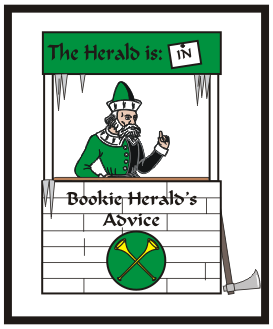 I have collected a large amount visual heraldic resources (books, web- sites, clipart and heralds) to help YOU develop heraldic arms for yourself.

*** Remember that ANYONE, SCA member or NOT, with an Award of Arms or NOT, may (and is encouraged to) register a device with the SCA College of Arms. There is only a subtle distinction heraldically speaking between people with an Award of Arms (AA) and those who haven't yet received them. The latter may register a "device", which will suddenly become your "Coat of Arms" once you've been brought up in court to receive your AA. It always adds a special bit of pageantry to court when the recipient of an Award of Arms (or other award) has already registered their device, for on those occasions the herald will read out the blazon (description) of the Arms, rather than saying "consult with the heralds to develop suitable and unique Arms". Alas, this line has been heard so much that few know they could (and should!) have already registered a device!

Choosing a device can be a time-consuming process. One must balance one's own sense of artistic taste and knowledge of heraldic art, with period style and the precedents and rules of the College of Heralds as well as choosing something which does not conflict with anyone else's device/arms in the SCA (and some modern/historical arms). Since this can be a long process, the work should begin immediately!

The Service I'm offering:
In addition to your local Herald(s), be they official branch officers or 'at- large', I am available (via phone or e-mail, some events) to discuss ideas on what kinds of things you would like in your device/arms. Heraldry is an art form with plenty of possible designs. Once you've contacted me with your ideas, I will draw them up as best I can, and post them on my web- site (publicly or not, as pleases you) for your approval and other herald's consultations.

I am also willing to help you with your research on a name to register with your arms.

I am also willing to fill out the official College of Heralds forms with the appropriate herald-ese and artwork for your submission-- once you've found a design you like and I can't find any conflicts/other reasons it wouldn't pass.

Corel Clip-art
Ermine Tails to choose from:

For inspiration, visit heraldry information site links below.


Think 'Simple'. ;-)


In Service of the Dream & Oerthan Heraldic Display!
-Mastyer Khevron
e-mail:

Good Heraldry Links:
SCA Heraldry Page
Genealogy of the Known World New URL
Modar's Heraldry Pages Great Resource!
Master Bruce's Heraldic Blazon Grammar Page
Search forms for the SCA Armorial
Da'ud Bob ibn Briggs Goes to the Movies! (and Heraldry Stuff)
Pimbley's Dictionary of Heraldry
Heraldica.org
Zurich Rolls at Viking Answer Lady Site

Other on-line SCA Armorials
Kingdom of the West Royal History Roll of Arms
Kingdom of An Tir Roll of Arms

Kingdom of the Outlands Roll of Arms

Kingdom of Meridies Illuminated Armorial

---
Naming Help Sites:
The Academy of Saint Gabriel
Medieval Names
Laurel Education Page

Other sites of interest:
The History of the Kingdom of the West

To the Barony of Winter's Gate
Back to Khevron's Heraldry Page

http://www.khevron.com